The ISF, supported by AbbVie, held the first-of-its-kind "Skin Matters" meeting and webinar on the evening of 1 November in Dublin's Chocolate Factory for people with Hidradenitis Suppurativa (HS). We will publish the video of the webinar in the New Year.
Patient and Expert Panel
The main element of the event was a panel discussion lead by two HS patient advocates, Suzanne Moloney and Barry McGrath, Consultant Dermatologist Dr Anne Marie Tobin, and GP Dr Catherine Wilkinson. TV3 / Virgin One's Claire Brock moderated the panel and incorporated questions that had been sent in by people with HS in advance.
Dr Anne Marie Tobin spoke about the clinical side of HS and the experience of her patients that she treats in secondary care. Dr Catherine Wilkinson gave some advice and practical tips on how patients deal with their HS in primary care.
Barry McGrath and Suzanne Moloney graciously spoke about their personal experiences of HS from the very first time that they started to show symptoms of HS and their journey through treatments and how HS affected them in their personal life.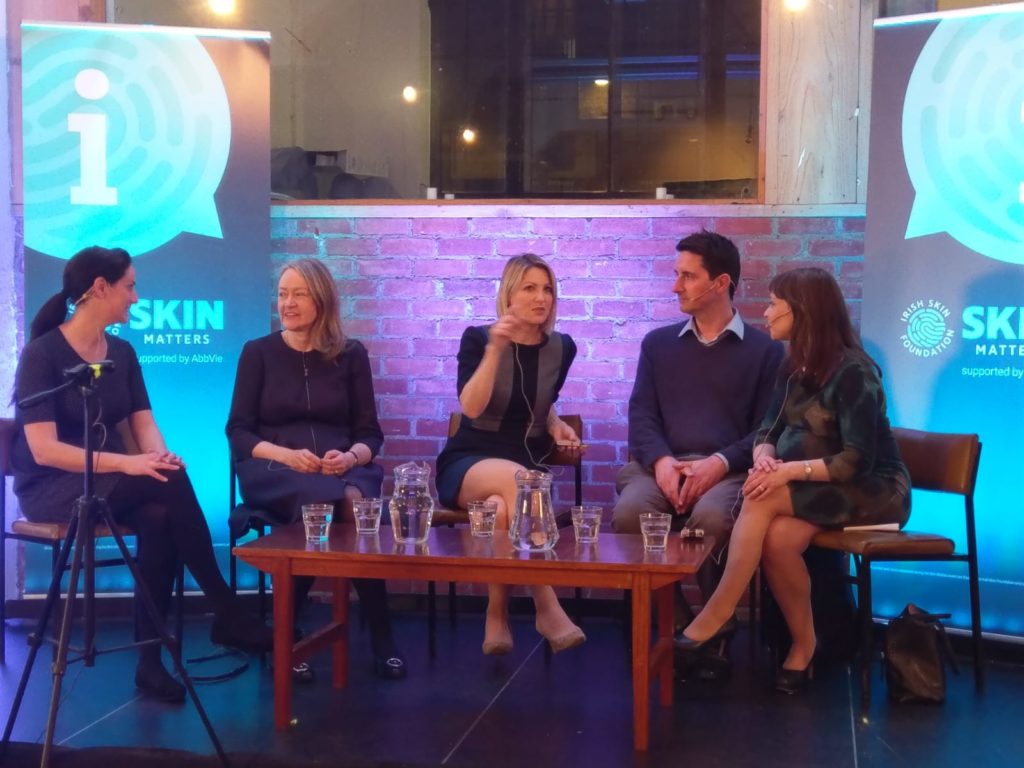 Attend and Participate by Smartphone
The great advantage for patients around the country was attendance by webinar portal, allowing anyone to listen to the panel discussion. This is a really important consideration given the geographical spread of people affected by HS throughout Ireland. ,
"The ISF Helpline get calls from people with HS throughout Ireland (and beyond), so we had to find a way to allow people access without travelling to Dublin".
"We have had a number of meetings for people with HS in the past but no matter where you hold meetings it's not always possible for people to attend, so this time we made it very easy for people to join us from home or work – wherever they have access to a smartphone or computer", explained ISF's David McMahon.
Offering Support and Connection
Meetings like this provide a safe, engaging way for people living with HS to understand more about their condition, to feel more empowered living with the condition day-to-day and understand that there's support there from the ISF and from the HS Ireland Facebook Group *.
The one topic that stood out from the event discussion was the importance and benefits of peer to peer support platforms like the HS Ireland Facebook support group that Barry McGrath set up a number of years ago. It provides a confidential platform where a person with HS can connect with people who understand and share some practical information and support.
We would like to thank everyone who was involved in the event including the panellists, Claire Brock and sponsor AbbVie. Also the ISF were delighted with the very positive feedback and conclude the event was a success.
*Being in touch with other people who understand what it is like to live with HS can be really helpful. If you would like to get in touch with the private Facebook HS Support Group, where you can talk to other people with HS, contact Barry at hsireland@outlook.com or follow on Twitter @hsireland1  
---
For more information about HS, visit our main HS page here.  If you need help or guidance about managing your HS, contact the ISF Helpline here.