An expert team of volunteers from across the country joined the ISF team to return to the National Ploughing Championships, in Screggan, Tullamore, once again this year.
The weather was "mixed" over the three day festival, however, the challenging conditions on day two didn't dampen spirits or stem the flow of visitors to our ISF Helpline Stand.
All Kinds of Skin Condition
Our large team of dermatology nurses, Board members and other team members met with hundreds of people seeking information about psoriasis, eczema, acne, rosacea and sun-damaged skin, amongst others.
It was a pleasure to meet so many people; many of whom had questions about emollients, topical therapies and guidance about the general management of a range of skin conditions.
However, news of the many new treatment options available for certain conditions, as well as exciting new and on-going research was met with considerable surprise.
Melanoma and Sun-Damaged Skin
We were very pleased to be able to provide free copies of our information booklets with up-to-date information for visitors take away, including our new Protect & Inspect melanoma skin cancer leaflet.
Once again this year, we are very grateful to have had access to an ultraviolet (UV) camera, which reveals sun damaged areas on the face, invisible to the naked eye. Sun damage is cumulative, adding up over a person's lifetime.
A majority of people that we met at the championships were unaware of the importance of taking precautions against overexposure to UV radiation from the sun, a finding echoed in an article about farmer's relationship with the sun, in the Independent.ie published during the ploughing championships.
Outdoor workers receive 5-10 times more UV exposure than indoor workers, and with the rising incidence of skin cancer in Ireland, we were very keen to spread the 'protect & Inspect' sun-safe message.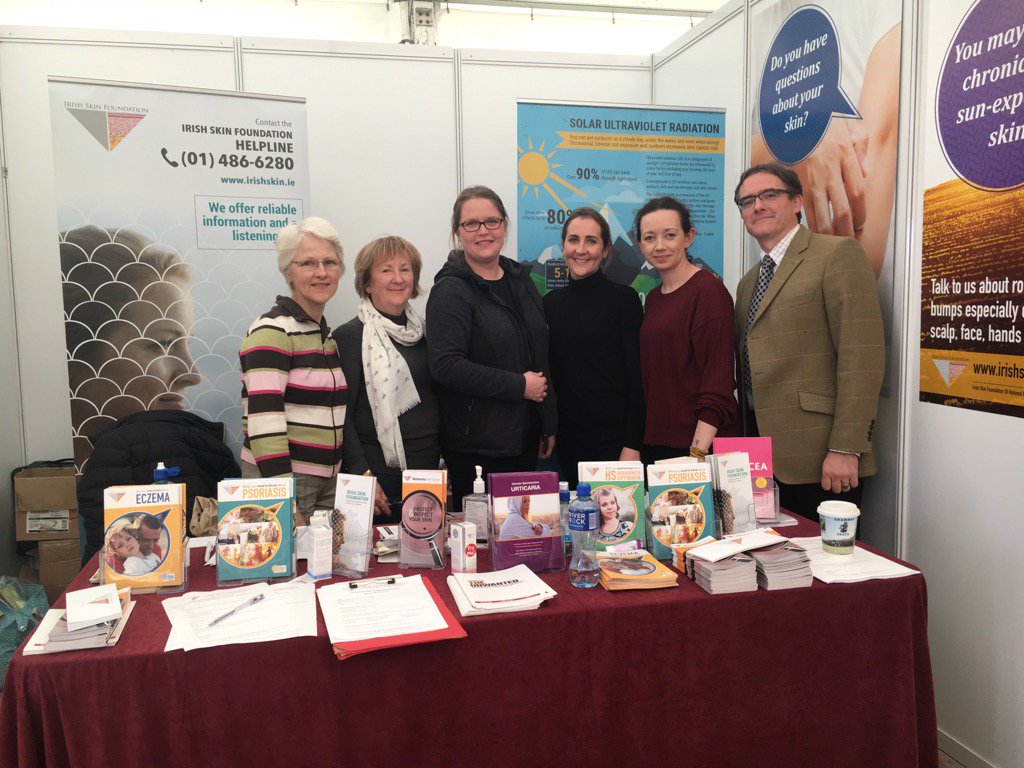 Raising Awareness: Radio and TV Coverage 
Listen back to our Health Promotion Manager, Michelle Dolan chatting about good sun-safe habits to Kfm's Ciara Plunkett on the Kildare Focus show.
Watch our Board members Ms Sheila Ryan, Dermatology Advanced Nurse Practitioner, University Hospital Limerick, and Dr Rupert Barry, Consultant Dermatologist and Moh's Micrographic Surgeon, St. James' Hospital, Dublin talk with RTE's Aine Lawlor and Marty Morrisey about the dangers of overexposure to UV rays on the 'Ploughing Live', which was broadcast live from the Championships.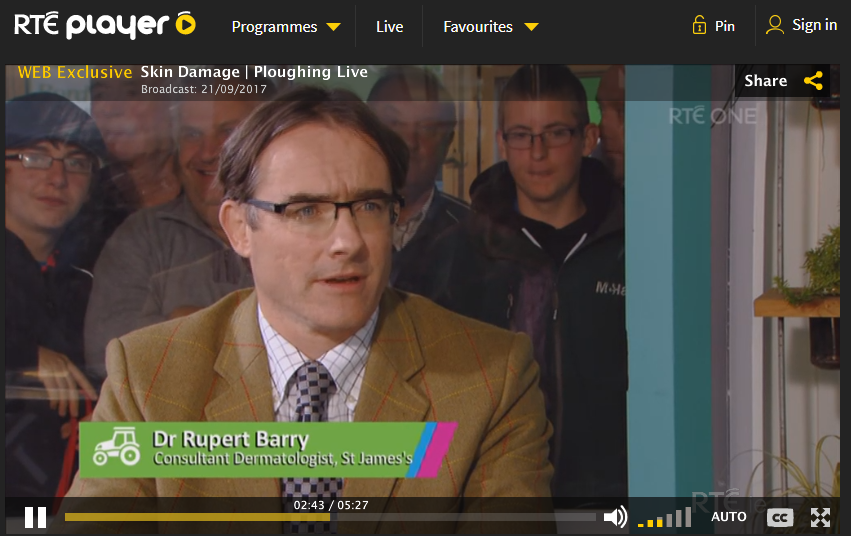 We would sincerely like to thank the dermatology nurses, Board members and other team members for generously volunteering their time.
Our attendance at the Ploughing Championships 2017 was sponsored by LEO Pharma