The GRIDD project is the first global patient-initiated and patient-led impact research study in dermatology.
Global Research on the Impact of Dermatological Diseases (GRIDD) was launched in 2017 by the International Alliance of Dermatology Patient Organizations (GlobalSkin) and aims to measure the disease burden across a wide spectrum of dermatological diseases and by developing and implementing an innovative patient-impact measurement tool: Patient-Reported Impact of Dermatological Diseases (PRIDD).
Working with the University of Hamburg and Cardiff University, this first-ever global patient-initiated 'impact of skin disease' research project is expected to have a profound and lasting effect on how policy decisions affecting the care and treatment of dermatology patients are made. It is widely felt that the data collected through this global research will help quantify the overall importance of the specialty of dermatology and stimulate further research.
Currently in Phase 4, the PRIDD measure is being validated by dermatology patients across all regions and in as many dermatology diseases as possible, through cognitive interviews (concluded August 31) and psychometric testing (starting in late-2021 and concluding by in mid-2022).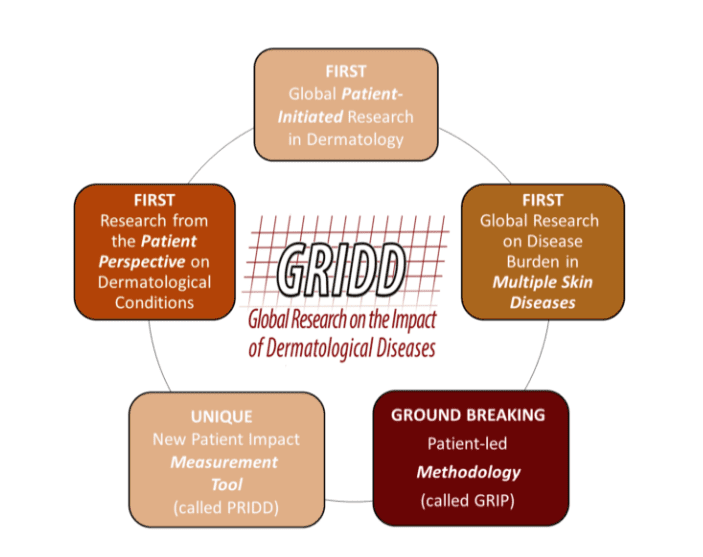 Why GRIDD Matters to Specialists and Healthcare Providers?
Global rankings of diseases, such as the Disability Adjusted Life Years (DALY) position dermatology relatively low compared to other diseases, thereby inferring that these conditions do not have a significant impact on the quality of life for sufferers.
The credible data gathered through GRIDD will provide specialists (dermatologists, researchers, etc.), patients, patient organizations, industry and others with the evidence needed to advocate for better policies, educational resources and training services; secure more research and development funding; and improve access to treatments and to care for patients.
Learn more on GlobalSkin's website.
---
If you need guidance or support about managing a skin disorder, contact the ISF Helpline for free assistance and information