This below article, "SkinSideOut – Addressing key skin concerns", written by Priscilla Lynch, was published by the Medical Independent on 11th June 2023.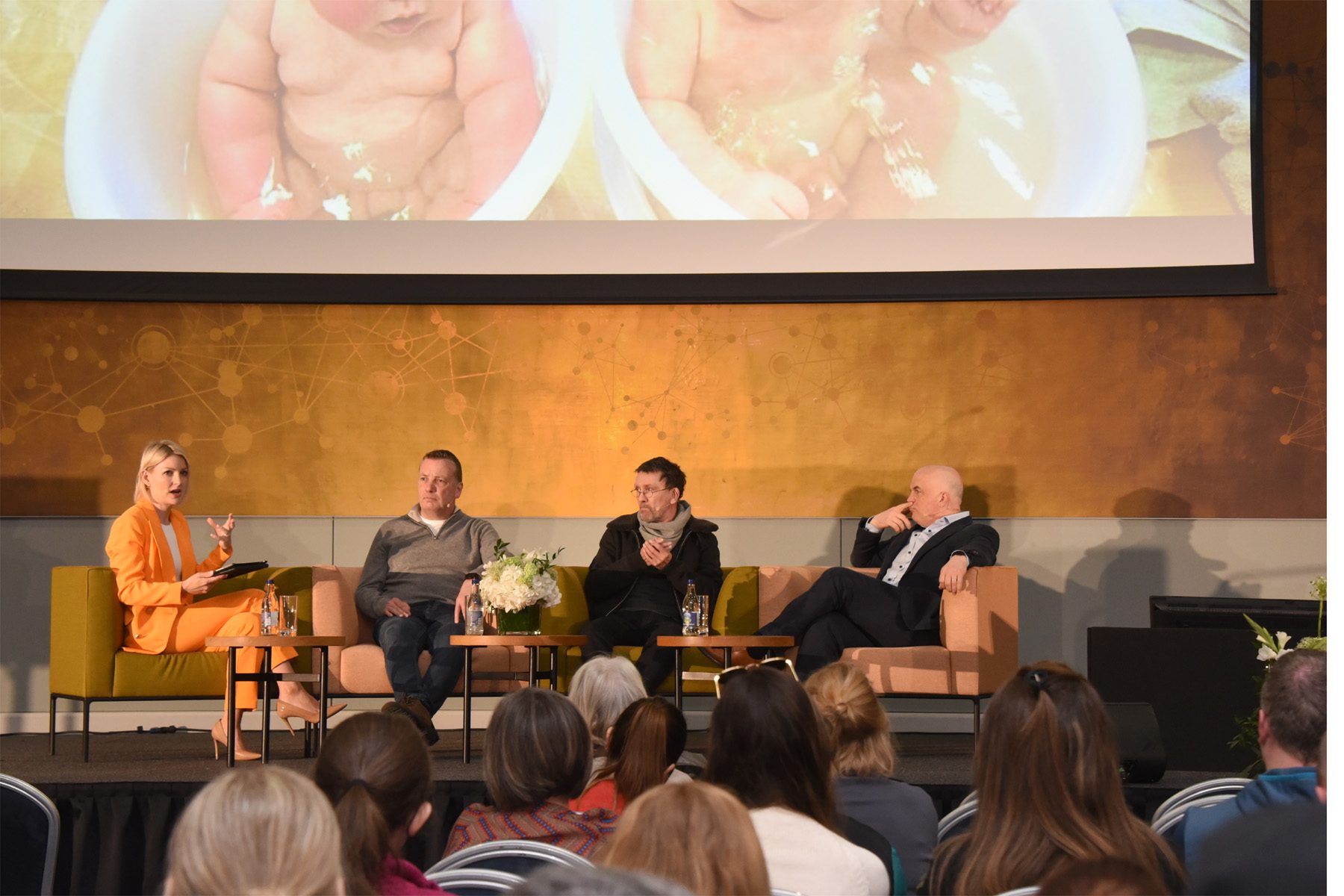 Priscilla Lynch reports on the Irish Skin Foundation's recent information day.
On Saturday 22 April, the Irish Skin Foundation (ISF) hosted SkinSideOut, a skin health information and exhibition event in O'Reilly Hall, University College Dublin.
Some of Ireland's leading dermatologists, dermatology nurses, and GPs with a specialist interest in dermatology addressed the event.
The well-attended, full-day event consisted of expert talks, panel discussions, and 'how to' sessions on eczema, psoriasis, acne, rosacea, hidradenitis suppurativa (HS), and skin cancer prevention.
Attendees also had the opportunity to meet with skin care brands with exhibition stands on the day and discuss product ranges for different skin problems.
Skin cancer
Dr Rupert Barry, Consultant Dermatologist and Mohs Surgeon, St James's Hospital, Dublin, gave an expert overview on skin cancer, including risk factors, diagnosis, and treatment strategies, with a focus on prevention and early detection.
He pointed out that sun exposure is the greatest risk factor, with the majority of Irish people having very fair (Fitzpatrick type 1 and 2) skin that burns easily, while sunbeds and immunosuppressive treatments are also risk factors.
There has been a significant rise in skin cancer in recent decades, with over 12,000 new 'first' cases a year currently: Given the population increase and projected ageing demographics, Ireland "is facing an enormous health burden coming down the track". Currently, waiting lists for routine non-melanoma skin cancer (basal cell carcinoma) in Dr Barry's clinic are a year, with another year for surgery. "We have to flatten the curv," he maintained.
Looking at melanoma cases, there has been a corresponding rise in recent years, with 1,200-1,300 new cases annually in Ireland currently, with a projected doubling of cases by 2030, and nearly tripling by 2050, Dr Barry warned.
"That is an enormous problem because we can barely keep up with what we have now."
Ireland currently has the highest predicted mortality rate in Europe from melanoma in males, and the third highest in females; "which is mainly down to access to care," as well as lack of awareness and slowness to get checked out by patients.
Early detection is key and he said clinicians should encourage patients to have any unusual skin growths/lesions checked out as soon as possible. While dermatology waiting lists are overwhelmed, Dr Barry said urgent referrals can generally be accommodated and he and his colleagues are always happy to take a query from a concerned GP.
Speaking to the Medical Independent (MI), Dr Barry said that as well as a detailed history of all the relevant risk factors, high-quality close-focus images are key to a good referral.
"I often ask that the periphery of the lesion is in focus, so that will ensure the rest of the lesion is in focus, and it is often best against a blue or black surgical background, which avoids reflection of the light. And if they use dermoscopy, to try and take a dermatascopic picture through the lens of that as well."
While there have been very positive developments in relation to treatment of advanced melanoma with immunotherapy in the last decade, it is expensive and treatment can be gruelling, thus prevention and early detection and prompt treatment remain key, Dr Barry maintained.
He stressed the importance of wearing high-factor sunscreen consistently, covering up, and protecting young children from the sun.
Eczema
Taking a step-wise, individualised approach to treatment is key in optimising outcomes from eczema, according to one of Ireland's leading experts in the disease. Prof Alan Irvine, Consultant Dermatologist, Children's Health Ireland, gave an expert update on the latest treatment approaches to eczema at the ISF meeting. Prof Irvine said that current treatments mean the vast majority of patients should have good control of the disease.
He said it is vital that clinicians take the time to adequately educate their patients on triggers and treatment approaches, particularly in relation to the use of topical treatments, detailing the exact volumes and how often they should be applied, to maximise adherence and outcomes. "Keep it simple, don't introduce too many creams."
He noted that steroids are very effective when needed, and while there has been a lot of controversy about their use in eczema in recent years, with withdrawal and rebound fears, the key is to use the smallest dose needed for the least amount of time and taper as needed. Prof Irvine also noted that clinicians need to be aware of and tackle misinformation in relation to diet, and the use of 'natural' remedies which can contain steroids unbeknownst to the patient.
For those with more severe disease, there have been great breakthroughs with the advent of monoclonal antibodies and JAK inhibitors in recent years, though he added that access is still tightly controlled and more patients could benefit from these treatments, which can be "transformative" for those worst affected by eczema. Patient Mr Paul Herriott spoke during a panel session with Prof Irvine about how going on a biologic, coupled with antibiotics and other treatments, had finally allowed him to control his very severe and debilitating eczema after exhausting all other avenues.
"In primary care, if you have a patient whose eczema is not controllable with good topical regimens and avoidance of irritations, then they really do need fast access to a dermatologist. Unfortunately we have about 50,000 people on waiting lists so the question becomes access to care, and how letters/requests are prioritised and crafted so that the person at the end of the letter understands that this is someone who needs to be seen in six-to-eight weeks, and GPs in general are very good at doing that. The more details that are in the letter, the better… to help triage patients into being seen sooner," Prof Irvine told MI.
Psoriasis
Also speaking at the SkinSideOut event, Prof Brian Kirby, Consultant Dermatologist, St Vincent's University Hospital, Dublin, discussed the latest treatment approaches for psoriasis, and the impact of stress on exacerbating and triggering disease flares. Again, modern treatments including biologics have transformed outcomes for patients with severe disease in recent years. He noted that there is now a successful treatment for almost everyone with psoriasis, but called for easier access to biologics for those who would benefit from them. Prof Kirby pointed out that with severe psoriasis, there are number of associated co-morbidities so it makes sense to get the disease under control as soon as possible, while psoriatic arthritis is also associated with the disease.
Rosacea
Prof Anne-Marie Tobin, HSE Clinical Lead for Dermatology and Consultant Dermatologist, Tallaght University Hospital, Dublin, gave a practical presentation on the diagnosis and management of rosacea. As well as affecting the face with trademark redness and flushing, it can affect the eyes (ocular rosacea) and cause skin flaking on the nose and eyebrows (seborrheic dermatitis), and thickening skin texture, and pustules.
She explained that UV exposure may initiate rosacea and is an ongoing trigger, while heat, physical exertion, alcohol, spicy foods, and stress are also key triggers. Demodex mites and genetics are other risk factors.
"Since the pathogenesis of rosacea is poorly understood, treatment targets the disease symptoms rather than the underlying cause."
Prof Tobin stressed the importance of using gentle skincare products, without strong chemicals and irritants, and wearing good quality sunscreen. IPL laser can help reduce the redness in some people.
Acne
Protecting patients from misinformation was a key focus of the presentation by Dr Catherine Wilkinson, GP with a specialist interest in acne.
She noted there is a lot of convincing misinformation online promoting simple solutions to acne, which do not have an evidence-base, while also heavily criticising conventional treatments, and citing unproven causes of acne such as diet. She called on clinicians to address this issue directly with their patients.
"We work as patient advocates and part of that role involves protecting patients against misinformation, and I think it was a very important part of my talk to highlight that… because misinformation online can be really convincing, and when you are distressed with your skin condition you are in a vulnerable position and it can be very tempting to be drawn down incorrect paths by this information, which can sometimes do harm and also be expensive," she told MI.
During her presentation, Dr Wilkinson outlined the wide range of treatments available for acne, advising a step-wise approach, and stressed the fact that acne can be very distressing for younger people and there is also the risk of scarring from uncontrolled acne, hence it should be taken seriously and treated appropriately.
* For more information and useful patient and practice supports, visit the ISF website at www.irishskin.ie.
---
If you need guidance or support about managing a skin condition, contact the Irish Skin Foundation's Ask-a-Nurse Helpline