New consensus framework to provide a structure for patients and caregivers to make a decision about systemic therapies
Atopic dermatitis (AD), also known as atopic eczema, is a common, itchy and unpleasant condition.
AD has significant well-established comorbidities (associated conditions) including food allergy, asthma and allergic rhinitis, in addition to newly-recognised comorbidities including those related to chronic loss of sleep and mental health issues. There are also early signals of increased cardiovascular comorbidities.
Cumulatively AD and its comorbidities create a very significant impact on the quality of life for people living with the condition. Systemic biomarkers (proteins), which are present in the blood of people with moderate and severe AD, also demonstrate that the entire body is affected by the condition and that a systemic therapy (i.e. 'entire-body' treatments in the form of existing oral or newly-developed injectable biologic treatments) may be appropriate treatments.
The therapeutic mainstay for so many people with AD is topical treatments with steroid creams/ointments or topical immunomodulators such as tacrolimus.  Often these treatment approaches are inadequate, too involved to administer and for these or other reasons are entirely unsatisfactory for patients.  But how do doctors and caregivers make a decision to offer a systemic therapy?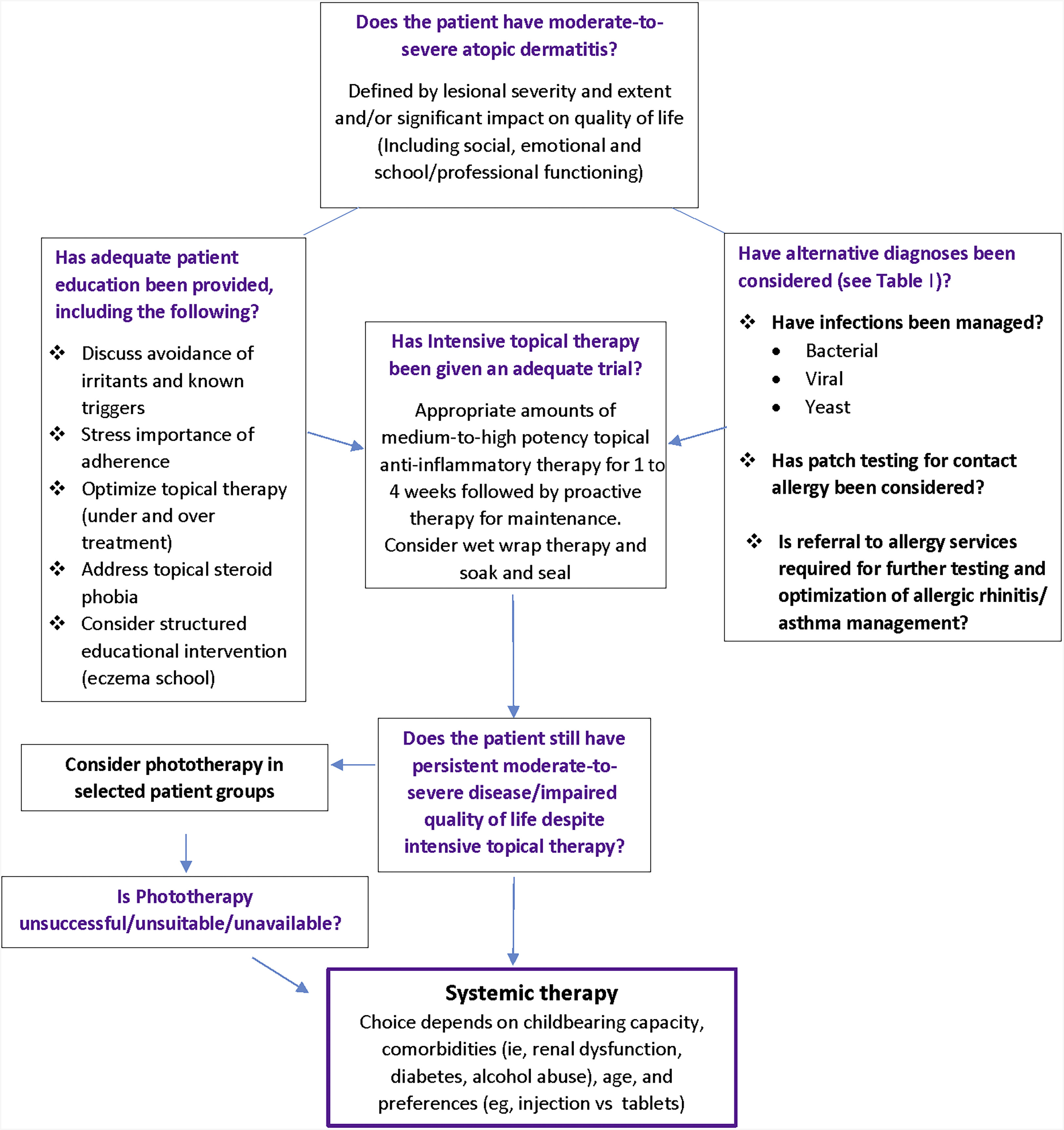 The decision on when to offer systemic therapy is a complex one, dependent on patient and physician preferences and familiarity with systemic medicines, a decision further complicated by the fact that many established therapies are used off license.
Patients may be offered very different therapies depending on their location and the health care provider they attend. In the last number of years there have been exciting new developments in AD therapy heralding a new range of systemic therapeutic options coming on stream. (Disclosure – I consult for many of the companies developing these drugs).
The International Eczema Council has just published a consensus framework to provide a structure to better inform patients and caregivers contemplating this complex decision making.
Full text of paper is available here.
When parents are making decisions regarding systemic therapy for children they often many very pertinent questions regarding how effective the therapy will be, how safe it will be and for how long the effects will last.
The best way to answer these questions is through a randomized, placebo controlled clinical trial, many of which are under way for new agents.  For older agents such as methotrexate and ciclosporin we are working with Carsten Flohr of Kings College London to get better insights through the TREAT Trail.
To better provide some information for parents we have recently published data from the last 47 consecutive patients we treated with methotrexate: read more about methotrexate here.
Professor Alan Irvine is a Consultant Paediatric Dermatologist based in Our Lady's Children's Hospital Crumlin and a member of expert panel of the International Eczema Council.  The original article, "When does atopic dermatitis warrant systemic therapy? Recommendations from an expert panel of the International Eczema Council", was published in the Journal of the American Academy of Dermatology, on 10 August 2017.
---
For more information about Atopic Dermatitis and Eczema, visit our Eczema Section to download our booklet, What you need to know about Eczema or contact the ISF Nurse Helpline.