In July 2019, the International Federation of Psoriasis Associations (IFPA) brought over 90 participants, including psoriasis association representatives, IFPA partners and the IFPA Board and Secretariat, together in Barcelona, Spain, for the annual members meeting to convene and exchange ideas.
IFPA is a non-profit organisation made up of psoriasis associations around the world. IFPA gives non-profit psoriasis associations a global voice to campaign on behalf of people who have psoriasis and psoriatic arthritis.
The meeting was divided into four key focus areas:
IFPA's new journey and capacity development
Science and communications initiatives
Preparations for World Psoriasis Day
Ongoing and upcoming advocacy efforts.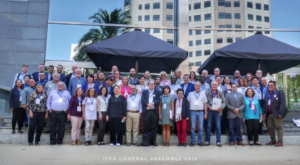 The IFPA Board and Secretariat presented on current and planned activities, including on the launch of the Global Psoriasis Atlas, which aims to provide the common benchmark on the complete burden of psoriasis in all countries and regions throughout the world and is scheduled to launch later this year.
Representatives from the NCD Alliance, W2O Group, High Lantern Group as well as the Secretary of the Scientific Executive Committee for World Psoriasis and Psoriatic Arthritis Conference 2021 also joined the meeting to hold presentations.
IFPA member organisations were given the opportunity to share examples of psoriasis campaigns and projects which had been launched in their country and demonstrate the results to attendees.
A large part of the meeting focused on preparing for this year's World Psoriasis Day campaign. IFPA Members and Partners worked together to get acquainted with this years' theme and key messages, to plan coordinated campaigns for World Psoriasis Day 2019.
---
For more information about Psoriasis, visit our Psoriasis Section to download our booklet, What you need to know about Psoriasis or contact the ISF Helpline for one-to-one information and support.