With the outbreak of the COVID-19 pandemic, our movements have been restricted and 2020 has become the year of the balcony, back garden and staycation for many of us.
While spending time outdoors is important for our own and our family's physical and mental well-being, it is equally important to enjoy the sun safely and be SunSmart! Skin cancer is the most common type of cancer in Ireland and in fair or light skinned populations worldwide, for whom sunburn is a risk factor. Most of these cancers are associated with overexposure to ultraviolet (UV) radiation, mainly from sunlight, although UV from artificial sources (e.g. sunbeds), also cause skin cancer. Yet, the good news is that most skin cancers can be prevented!
Sun Protection Myths and Misconceptions
With this in mind, we have created a video with Professor Anne-Marie Tobin, Consultant Dermatologist at Tallaght University Hospital and HSE Clinical Lead for Dermatology dispelling some of the common myths and misconceptions we may have about sun protection in Ireland. The video provides guidance on how to protect you and your family's skin, so that you can enjoy the rest of the Summer to the fullest!
Reduce Your Risk: Protect Your Skin
You can reduce your risk by avoiding overexposure to ultraviolet radiation from sunlight or artificial sources e.g. sunbeds.
Although the weather in Ireland has been somewhat mixed of late, it is important to remember to be SunSmart during peak-UV months from April – September, when the UV index is usually 3 or above, even if it's cloudy outside! Stay safe by limiting time in the midday sun when UV is strongest, typically between the hours of 11:00am – 3:00pm.
Remember that sunscreen should not be your only method of sun protection! You can reduce your risk of skin cancer by following:
The 5 Ss of Sun Safety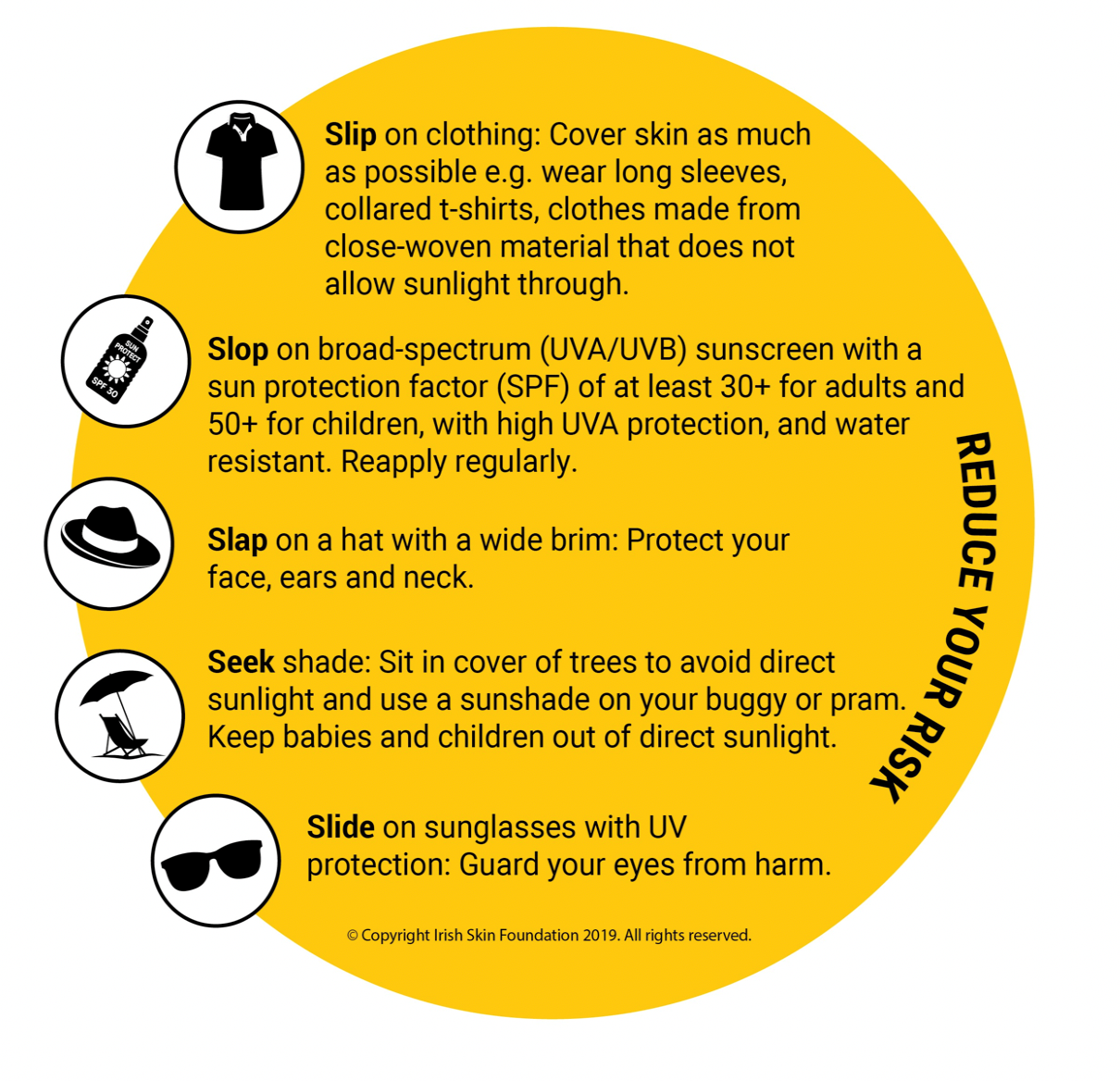 Check out our SunSmart 2020 page for must-read articles, leaflets and infographics to help you understand why it's important to be SunSmart to protect your skin. For more on skin cancer visit our information page.
If you're concerned about a change or growth on your skin, you should always see your doctor.
---
We want everyone in Ireland to learn to Protect & Inspect their skin! Read our short guide, written with hospital-based dermatologists, to protecting and checking your skin.