This article written by Maeve Quigley was published in the Irish Daily Mail health supplement, 'Good Health', on Tuesday, 8th September 2020. 
It's a drug that could change the lives of more than 500 eczema sufferers in Ireland and is made in a factory in Waterford.
And yet Ireland is one of just two countries in Europe not to have reimbursed the drug Dupilumab for the treatment of moderate and severe eczema, despite the fact that it was trialled here and is working for sufferers across the European Union.
Ahead of World Eczema Day, which falls on September 14, the Irish Skin Foundation is calling on the HSE to reimburse the drug, allowing access to people across the country with severe to moderate eczema.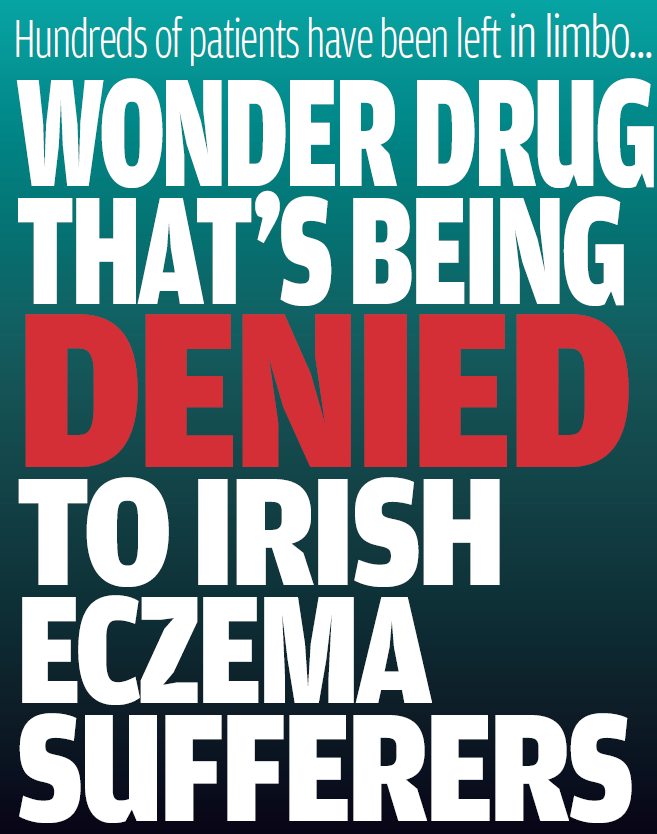 Professor Alan Irvine, consultant dermatologist at St James' Hospital and Children's Health Ireland at Crumlin said access to the drug would help around 500 adults and children across Ireland.
'Dupilumab has been approved since 2017 and has been available in most of Europe since 2018. It is only Ireland and Greece who don't have it out of the 27 countries,' Professor Irvine says.
'It is the only drug that has been specifically designed, approved and licensed for atopic dermatitis or eczema.
'The drugs that we use at the moment are what we call repurposed drugs — so drugs that have been used in either transplant medicine or cancer medicine that have been proven to be useful for eczema. But they have never been formally taken through a drug design process and approved for that. So it is the first drug to be approved for eczema; it is still the only drug with that degree of development, although there are lots more coming behind.'
A survey by the Irish Skin Foundation revealed severe atopic eczema has a negative impact on the quality of life for sufferers, revealing 86% of children and 84% of adults with the condition have ongoing sleep disturbance. Two thirds of adults surveyed said they were forced to avoid exercise because of their condition as sweat can be a trigger for eczema.
More than half (52%) avoid social activities altogether due to their condition.
And Professor Irvine says Dupilumab has been proven to bring great relief and improvement to sufferers.
'It has been designed to help whose life has been impacted,' he says. 'It's for people who have moderate to severe eczema which has a pretty significant impact on your quality of life. You are constantly itchy, often have skin pain, you have to use a lot of creams to try and improve that but these are not particularly effective for those with a more severe condition.
'Having severe eczema has an impact on all the aspects of people's lives, from relationships to occupation to mental health. Depression and anxiety are common in people who have eczema so it affects the whole person, their body and lifestyle in so many ways.'
Dupilumab is administered by regular injection and reacts with certain areas of the body's immune pathways to combat inflammatory reactions.
'It is called a monoclonal antibody,' says Professor Irvine. 'These are antibodies that are manufactured for immune targets and they have been used a lot for inflammatory conditions like psoriasis arthritis. They are also used in cancer treatments. They are very specific and just take out the targets they were made for. '
Dupilumab takes out two things in the body — interleukin 4 and interleukin 13, these only have a role in parasite infections otherwise. Toning that part of the immune system down is very safe and does not tend to cause other immune problems so that is one of the appeals. It is the most effective option at the moment.'
So far more than 60% of the patients treated with Dupilumab get significant improvement in lot better in respect to itch, sleep quality, how their skin looks, how it feels and what other drugs they have to use,' says Professor Irvine. 'We did some of the drug trials in Trinity College so we do have some people who are still on the drug as a result of that. Even after three years people are still enjoying a good quality of life improvements and for those for whom it works, it has remained effective. We don't have a longer follow up because it is a new drug.'
Lyric FM presenter Paul Herriott has suffered from eczema all his life but his condition has become a lot more severe in the last 20 years. Although he has always managed his condition it has affected his sleep quality and initially he could only get relief from itchiness and sores from wet wrapping and phototherapy treatments.
'I had a huge flare up and at that stage it was my father who told me I needed to get help as the lesions on my skin were bleeding and I couldn't cope with it any more on my own, ' he explains.
He has recently started Dupilumab treatment and says it is the best he has seen his skin for years.
'I went through wet wrapping and phototherapy and you get to a stage where those sort of treatments which are very intensive and take a long time to do only have a certain life span.'
Five years ago Paul's condition was so bad that he was left with no option to try systemic drug treatment but found all the options available had very strong side effects,  'After trying everything else, I was offered the chance to take Dupilumab. I had run out of options. When I started on it I had so much eczema that the nurse said it would take a month to six weeks before I would see any kind of improvement.
'But you get two injections to start off with and after those within 48 hours I was already starting to see improvement.'
'And after four weeks I did not recognise my skin as my own.'
Paul says the bleeding lesions on his skin have healed and his skin no longer breaks and cracks.
'I would barely recognise my skin to the touch,' he says. 'Before I wouldn't have been able to go to bed in the evening without putting on creams, moisturisers, protopic ointment, maybe a of a steroid and maybe a bit of wet wrapping around the next because my neck looked like a velociraptor's it was so badly affected.
'On my hands in the morning every knuckle would crack unless I'd spent the night sleeping with moisturiser and polythene gloves on.
'Now I don't have any fissures or cracks on my hands at all. There are some slight side effects in that my eyes can get dry but I had dry eyes before I started this so I just put in lubricant drops, nothing compared to what I was going through before.'
Professor Irvine says itchy eyes are a side effect for around 10 per cent of those treated with Dupilumab.
'It's a very safe and effective option but unfortunately we don't have access to it for our patients. It is licensed down to 12 years of age and it would be very useful for children who are currently on older drugs that don't work for everyone and require regular blood tests.'
The HSE has not supported reimbursement of the drug. In a statement to Good Health it said it had engaged in commercial negotiations with manufacturers Sanofi regarding both the adult and adolescent populations.
'The final HTA report was reviewed by the HSE Drugs Group, along with the outputs of commercial negotiations, and the patient group submission received during the HTA process. The HSE Drugs Group considered all the evidence and made a recommendation not to support reimbursement of Dupilumab for the treatment of moderate-to-severe atopic dermatitis in both adults and adolescents 12 years and older who are candidates for systemic therapy to the HSE Executive Management Team. The HSE Executive Management Team decides on the basis of all the demands it is faced with (across all services) whether it can fund a new medicine, or new uses of an existing medicine, from the resources that have been provided to it in line with the Health (Pricing and Supply of Medical Goods) Act 2013. The HSE EMT considered this medicine and has supported the HSE Drugs Group recommendation which was not to support reimbursement.'
A number of people in Ireland who were part of the initial trial have access to the drug, as do some like Paul who have been given it on a compassionate access basis but this will not happen for everyone who needs it.
'Irish patients with severe eczema have been waiting for approval for Dupilumab for two years since the NHS made this often life-transforming drug available in the North. They and those who care for adolescents and children with eczema are anxiously awaiting parity of access across the island of Ireland,' says Professor Irvine.
David McMahon, chief executive of the Irish Skin Foundation says sufferers here are anxious to get the treatment.
'Dupilumab is the first major therapeutic breakthrough for atopic eczema in decades,' he says.
'Patients living with severe eczema are desperate for access to a treatment that can be truly life-changing for many. We're asking for fair access to new medicines, based on value for money, transparency, effectiveness and sustainability, and we want to see a future for people with eczema without having to live with painful, broken, and bleeding skin.'
Information and resources for people with atopic eczema are available on the Irish Skin Foundation's (ISF) website, irishskin. ie. The charity also operates an 'Ask a Nurse' Helpline on (01) 486- 6280 with access to specialist dermatology nurses, who provide one-to-one guidance about arange of skin conditions.
---
For more information about atopic dermatitis and eczema, visit our main eczema page here.  If you need help or guidance about managing your eczema, contact the ISF Helpline here.