Globally, 21 atopic dermatitis patient organisations have become official partners of SECURE-AD, two international COVID-19 surveys for atopic dermatitis (also known as AD or eczema) . One survey is for healthcare providers and the other is for individuals with AD.
What is the SECURE-AD Patient Survey?
The SECURE-AD Patient Survey allows patients with AD who have developed COVID-19 to report their experience. The information gathered in this survey will make it possible to assess the impact of COVID-19 on AD patients and what influence AD treatments have on the course of the infection. This will help to guide doctors in their care of AD patients who are infected with COVID-19.
Since the launch of the SECURE-AD Patient Survey in 2020, over 400 people with AD have registered, 135 people who have contracted COVID-19 have entered details of their infection in the survey. Of those, 120 people were included in the preliminary analysis below:
Atopic dermatitis treatment at the time of COVID-19
Around the world, most AD is treated with creams and ointments, rather than light treatment (phototherapy) or tablets or injection treatments. Therefore, it is not surprising that the majority of survey responses came from patients using creams and ointments (83%).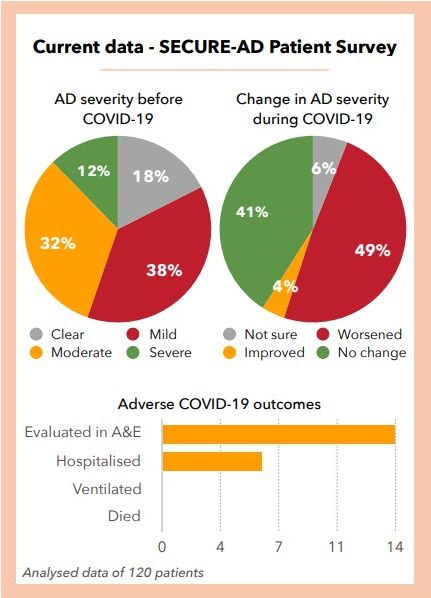 Severity of atopic dermatitis before COVID-19
Most people who reported having COVID-19 in the SECURE-AD Patient Survey had mild AD (38%). The other severities of AD which reported to the registry included: moderate AD (32%) and severe AD (12%), these individuals are more likely to require tablet or injectable treatments – medications that can affect the immune system. Based on the current evidence, the SECURE research team cannot be sure how treatments which affect the immune system might influence what happens to patients who get COVID-19. With more surveys the research team are hopeful to be able to provide more detailed information.
Change in atopic dermatitis severity during COVID-19
Having an infection can cause worsening (flares) of AD. The majority (90%) of people completing the SECURE-AD Patient Survey reported that their eczema got worse or stayed the same during COVID-19. The reason for this is unknown: maybe general activation of the immune system, maybe stress of being unwell or maybe temporarily changing tablet or injection treatments when they were sick, on their Doctor's advice.
How can you help?
The SECURE-AD registry will continue to gather more information to analyse how having AD affects those who get COVID-19. Please encourage anyone you know with AD (eczema) who has had COVID-19 to complete the survey – they can report their case even if it was months ago.
This survey will take about 10 minutes and consists of questions about yourself, your treatment, other conditions, medications and how the COVID-19 infection affected you.
Please also let your doctor know about your infection episode and ask them to enter your case in the SECURE-AD Physician Registry. Both online registries complement each other, are safe and secure, collect anonymised data and have received the relevant ethical/Institutional Review Board approvals.
Please visit SECURE-DERM Registries or check the frequently asked questions page. If you want to report your case, you can go directly to the patient survey page.
---
If you need guidance or support about managing eczema or other skin condition, contact the ISF Helpline for free assistance and information.