Hidradenitis Suppurativa (HS) Awareness Week takes place the June 5th-11th, this year. The following general measures can be very helpful in the management of Hidradenitis Suppurativa (HS).
1: Stop smoking
Research has shown that people with Hidradenitis Suppurativa (HS) are far more likely to be smokers. Smoking is thought to worsen HS and stopping smoking may improve symptoms. The HSE provides tailored quit plans to help people quit smoking, see: www.quit.ie or Freephone 1800 201 203.
2: Maintaining a healthy weight
Obesity is identified as a risk factor for the severity of the condition and weight loss may improve symptoms. People with HS are at an increased risk for heart disease and should have their 'risk factors', including blood pressure and cholesterol checked. To calculate your body mass index online see: www.bmicalculator.ie
3: Skin care/wound care/dressings
You may require specific types of dressings, or the dressings may need to be customised, depending on the location of the wound, the stage of wound healing and the quantity of fluid that is produced.
Maceration is the softening and breaking down of the skin which occurs when there is prolonged exposure to moisture, such as from the fluid/pus that may be released from wounds in HS.
Therefore, it is important to draw excess fluid away from the skin and to change dressings regularly, in order to keep the skin surface dry and avoid maceration.
The chosen dressing should be absorbent, non-irritant and non-occlusive (breathable). Some dressings also absorb odours. Discuss your options with your health care professional.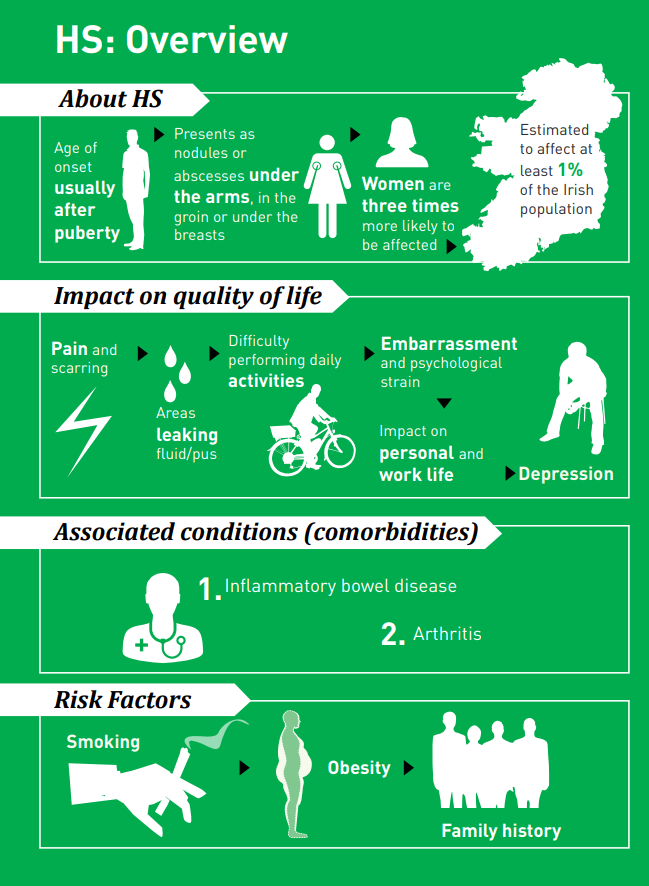 4: What is the best clothing to wear?
Choice of clothing is influenced by what works best for each individual, based on the site and severity of their condition. Typically, loose-fitting cotton clothing is the most comfortable and is preferable to synthetic, wool or slim-fitting garments.
Tight fitting clothing may cause chaffing – this is where the skin becomes irritated by continuous friction caused by skin rubbing against skin or clothing and can contribute to discomfort. Consider garments with smooth seams to avoid friction.
Specialised undergarments are available for those living with HS. For more information, please contact the Irish Skin Foundation.
5: Know that you are not alone
HS is not uncommon, with research indicating that it affects at least 1% of the Irish population.
6: Support
Finding a friend or a family member that you can talk to can be beneficial. If you find it difficult, connecting with people who understand your condition and feelings may be comforting and useful, for example:
---