BIOMAP consortium explore differences in the comorbidities experienced between HLA-C*06:02 carrier groups in 9,000 psoriasis patients
The BIOMAP consortium published a study in the Journal of Investigative Dermatology, exploring what influence the HLA-C*06:02 (a version of a gene called HLA-C) has on the risk of developing other health conditions (often termed comorbidities) in over 9,000 people with psoriasis.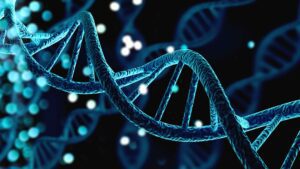 What is psoriasis?
Psoriasis is a chronic systemic inflammatory skin disorder involving the skin and nails, affecting at least 60 million people worldwide and at least 73,000 people in Ireland.
The exact cause of psoriasis is still not completely understood. Three central factors contribute to its development, these include; abnormal immune system responses, genetic predisposition and environmental factors. It is a condition that tends to run in families and several different genes have been identified, with research ongoing in this area. Environmental and some lifestyle factors can also play a role in those who are susceptible, such as infection, emotional stress, injury to the skin, certain medications, alcohol consumption, smoking and being above a healthy weight.
"A person's genetic make-up is an important determinant factor of health and disease. We know very little about the genes that determine whether a person will develop psoriasis comorbidities, but we know more about the genes that can lead to psoriasis. Of these, a gene called HLA-C is by far the most important." (Biomap consortium)
What other health conditions is psoriasis associated with?
There are a number of other health conditions (comorbidities) that have been associated with psoriasis. People who have psoriasis are at risk of developing psoriatic arthritis, which commonly affects the joints of the fingers, toes and spine. Some people with psoriasis can have an increased risk of type 2 diabetes, high blood pressure, high cholesterol, cardiovascular disease (heart attack, stroke), and obesity. There is also a strong association between psoriasis and depression and anxiety.
If you have psoriasis, ask your doctor about your risk for heart disease, type 2 diabetes, high cholesterol and high blood pressure. If you have symptoms of arthritis, you may be referred to a rheumatologist who is a specialist consultant doctor who can diagnose and treat forms of arthritis and other diseases of joints, muscles and bones.
Psoriasis affects people in different ways. Living with psoriasis can affect you emotionally and socially, as well as physically. If you are feeling anxious or down, it is important to share your feelings with your doctor.
To read a plain language summary of this study, click on the following link: 
Differences in the comorbidities experienced between HLA-C*06:02 carrier groups in 9,000 psoriasis patients
---
For more information about psoriasis, visit our main psoriasis page here or download the Irish Skin Foundation booklet what you need to know about psoriasis.
If you need help or guidance about managing your psoriasis, contact the ISF Helpline here.