Study for Adults living with Hidradenitis Suppurativa
Are you aged 18 and above and living with Hidradenitis Suppurativa (HS)?   If so, you are eligible to take part in the following study.
This research is being done as part of a partnership between UCD, St. Vincent's University Hospital (SVUH) and HS Ireland. The members of the research team are Drs Varsha Eswara Murthy, Niki Nearchou, Paul D'Alton, Barry McGrath, and Prof Brian Kirby.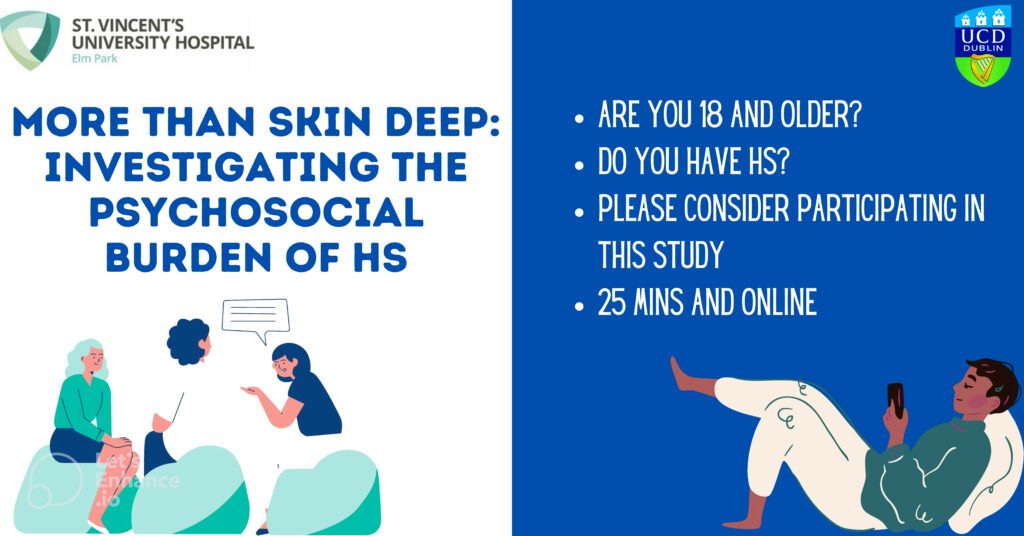 What is this research about?
Early research and anecdotal evidence have shown that HS impacts many areas of psychosocial functioning; mental health, well-being, social functioning, relationships, sexual functioning, and work. However, there is limited evidence that looks at all these areas and how they may be related to one another. This project aims to build a psychosocial profile of people with HS and examine desires related to the provision of psychological supports for people with HS.
Why are we doing this research?
We are hoping to use the results of this research to help practitioners and researchers get a better understanding of the psychosocial impact of HS, with the aim of using this research to aid in the future development of psychological supports for those living with HS.
How to get involved?
This study involves completing a 25-minute online survey. If you would like to participate, please click the button below:
Thank You!
---
For further information about this research please contact Dr Varsha Eswara Murthy
Email: varsha.eswara-murthy@ucdconnect.ie. Ethical approval for this study was granted by UCD Research Ethics Committee.
If you need guidance or support about managing a skin disorder, contact the ISF Helpline for free support and information.