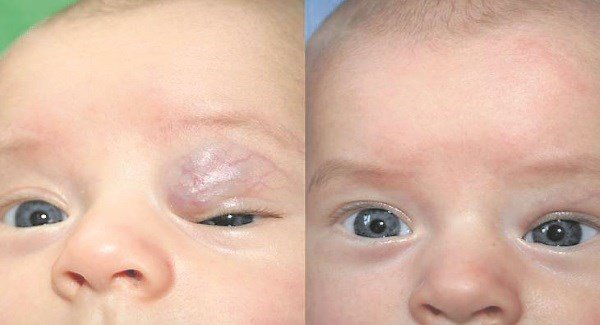 New national pilot scheme to fast track treatment for babies with complicated 'strawberry birthmarks'.
Doctors at Cork University Hospital have devised a new photo-triage system for babies with infantile haemangiomas (also known as strawberry birthmarks).
What are infantile haemangiomas?
An 'infantile haemangioma' is a type of vascular birthmark, which consists of a soft, raised overgrowth of immature blood vessels in the skin. Haemangiomas are comprised of cells that normally make up the inner lining of blood vessels (endothelial cells). When located near the skin's surface, they can appear bright red in colour and look a little like a strawberry, so are also referred to as 'strawberry naevi' or 'strawberry birthmarks'.
How common are they?
Infantile haemangiomas are quite common, affecting approximately 1 in 20 babies, but are more frequently observed in females, babies born prematurely and multiple births. The cause is not yet completely understood.
Appearance of symptoms
They typically develop within the first month of life, appearing as a small red mark, which starts to increase in size quite rapidly over several months. After 6-9 months, the rate of increase begins to slow, and then the haemangioma starts to shrink again over a number of years.
They can occur anywhere on the skin, and occasionally are problematic. Approximately 20% require medical attention due to complications, such as bleeding, ulceration, risk of cosmetic disfigurement, or when they affect the face and interfere with breathing, feeding or vision.
Treatment of choice
Treatment with a drug called propranolol can halt the growth and reduce the size of haemangiomas, and consequently, the risk of complications. Propranolol is a type of drug called a beta-blocker, traditionally used to treat a fast heart rate and high blood pressure, but by chance was discovered to be effective for the treatment of haemangiomas in 2008.
Propranolol is now the first choice treatment when there are complications. Research, including a large randomised placebo controlled trial (Léauté-Labrèze, Hoeger, Mazereeuw-Hautier et al, 2015) and a large European cohort study (Wedgeworth, Glover, Irvine et al, 2016) confirm propranolol's safety and efficacy for the treatment of infantile haemangiomas.
New national pilot scheme
Doctors at Cork University Hospital have devised a new photo-triage system for babies with infantile haemangiomas. Under a national pilot scheme, this system will permit GPs to email a picture of a haemangioma to a specific HSE address for review by a consultant paediatric dermatologist. If it is considered 'high risk', the baby will be referred directly to a paediatric dermatologist in one of five locations, depending on where the patient lives: Cork University Hospital, University Hospital Galway, Our Lady's Children's Hospital, Crumlin, Children's University Hospital, Temple St, or Our Lady of Lourdes Hospital in Drogheda.
This project is being co-ordinated by Dr Michelle Murphy (consultant paediatric dermatologist at Cork University Hospital). According to Dr Murphy "treatment is time sensitive and those treated earlier have better outcomes".
Further reading:
Treatment improves for 'strawberry marks' condition that can be potentially life-threatening by Catherine Shanahan, Irish Examiner, 15 November 2016
British Association of Dermatologists Patient information leaflet. Propranolol for haemangiomas of infancy. Available from here. 
Léauté-Labrèze C, Hoeger P, Mazereeuw-Hautier J, Guibaud L, Baselga E, Posiunas G et al. A Randomized, Controlled Trial of Oral Propranolol in Infantile Hemangioma. N ENGL J MED. 2015; 372 (8): 735-746
Wedgeworth E, Glover M, Irvine AD, Neri I, Baselga E, Clayton TH et al. Propranolol in the treatment of infantile haemangiomas: lessons from the European Propranolol In the Treatment of Complicated Haemangiomas (PITCH) Taskforce survey. BJD. 2016; 174: 594-601 doi: 10.1111/bjd.14233