In June 2019, the International Alliance of Dermatology Patient Organizations (IADPO), also known as GlobalSkin, brought over 120 skin patient group leaders from 35 countries together in Milan for three unique events: the RareDERM Forum, the Atopic Eczema Forum and the GlobalSkin 2019 Conference.
The RareDERM Forum and Atopic Eczema Forum each spanned two-days and took place just before the GlobalSkin 2019 Conference. Nearly 40 delegates from 13 countries represented rare and uncommon dermatological disease patient group leaders, while 25 delegates from 21 countries represented the atopic eczema community.
Participants benefited from formal learning sessions, strategic thinking and connecting with other patient leaders and dermatology stakeholders.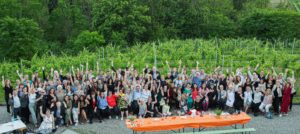 RareDERM Forum
A primary objective of the RareDERM Forum was to begin building a cohesive community of rare dermatology disease patient organisations and supporting stakeholders to ensure the lives of these patients are positively and measurably impacted through improved care and treatment. Working in small groups and then as a larger plenary group, participants outlined broad goals, defined challenges and needs; and began developing a strategy to build a cohesive community to grow knowledge and skills; to help stimulate research; foster connectivity; and deliver advocacy. A summary of this work will be available later this summer. Five advisory committees were formed within the community and reports on their progress will be shared later this year.
Atopic Eczema Forum
The Atopic Eczema Forum focused on building capacity through educational sessions on emerging eczema research, and discussions on various advocacy tools and approaches. Participants shared challenges and identified gaps in skills and resources. A summary of this event will also be available later this summer. With the assistance of an advisory committee and strategic roadmap this community is charting a path forward for the next several years.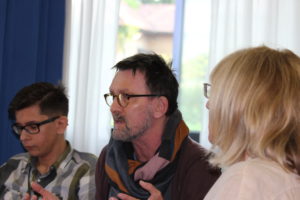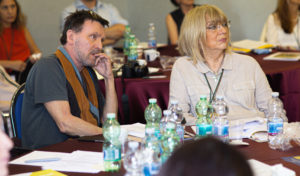 GlobalSkin 2019 Conference
Following these two ground-breaking events, RareDERM and Atopic Eczema patient leaders also attended the three-day GlobalSkin 2019 Conference. This Conference is hosted every second year and is specifically designed for dermatology patient leaders with a focus on advocacy, science and research, and building organisational capacity for strong, resilient organisations. This Conference attracted delegates who represented a wide cross-section of serious skin diseases.
Participants learned from each other and outside experts during stimulating plenaries, engaging workshops, and small group mentorship opportunities through a living library.
Attending the Globalskin2019 Conference provided all participants with the opportunity to connect with leaders from organisations with varying levels of experience. Sharing knowledge, best practices and being able to interact with and be inspired by other patient leaders provided immeasurable value to all who were in Milan.
Delegates were also treated to two special keynote speakers, networking opportunities during the One World reception and dinner and a special off-site Patient's First dinner held at a local vineyard.
We would like to thank GlobalSkin for inviting the Irish Skin Foundation to be part of this fantastic information and networking event.