Psoriasis on Your Mind? – expert 'SkinSideOut' panel to meet at Science Gallery, Dublin on 16 Nov
This World Psoriasis Day (29th October), the Irish Skin Foundation (ISF) joins with the International Federation of Psoriasis Associations (IFPA) and 55 members globally to raise awareness of psoriasis and the complex emotional toll of this common skin condition, estimated to affect 73,000 – 100,000 people in Ireland.
Along with the physical burden of psoriasis, the often-visible nature of the disease means people living with the condition may have to cope with the reactions of others to the appearance of their skin. This can impact negatively on quality of life, self-esteem, social and personal relationships, which can then take an emotional, psychological and psychosocial toll on people with psoriasis.
Dr Eddie Murphy, Clinical Psychologist will join an expert psoriasis panel discussion entitled 'Psoriasis on Your Mind?' taking place on Saturday, 16 November in the Science Gallery, TCD, Dublin.
Click here to attend Skin Side Out
Psoriasis on Your Mind? 
Psoriasis on Your Mind? is part of a series of panel discussions and talks given by expert medical speakers and patient advocates taking place on the day at SkinSideOut, the ISF's skin health information event at the Science Gallery. The five talks are aimed to anyone who would like to learn more about skin conditions like psoriasis and will explore the impact of managing the everyday challenges of living with chronic skin conditions – with a particular focus on psoriasis, atopic eczema, acne and rosacea.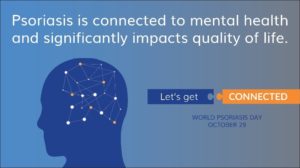 Dr Eddie Murphy is also part of the 'Ask How I Feel' psoriasis awareness campaign, which will focus on looking at psoriasis from the inside out and urges people not to suffer in silence, but to encourage people around you – friends, family and healthcare professionals – to #AskHowIFeel.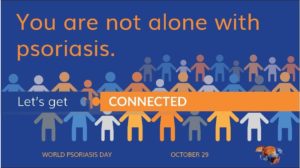 You are not alone with Psoriasis
The ISF also operates a free nurse-led helpline which supports people living with psoriasis, we offer guidance, information and peer-to-peer support.  If you, or someone you care about, would like some assistance or to learn about ways to manage psoriasis or another skin condition contact us today.
Global Psoriasis Atlas
New figures released from the Global Psoriasis Atlas (GPA) on World Psoriasis Day 2019, show an estimated 82,900 people are affected by psoriasis in Ireland. The GPA is a collaboration between three leading international organisations in world dermatology: International Federation of Psoriasis Associations (IFPA); International League of Dermatological Societies (ILDS); and International Psoriasis Council (IPC).
One of the key aims of the GPA is to inform on the worldwide epidemiology of psoriasis. The GPA will be updated annually, in collaboration with dermatologists and international organisations around the world.
The first edition contains data on psoriasis prevalence in adults and children, healthcare data and personal stories told by people with psoriasis worldwide. Future editions of the GPA will be expanded to include access to treatment, co-morbidities and cost to society.
Take Psoriasis Seriously
Psoriasis is a serious, chronic and non-communicable disease (NCDs) in itself, but there are a number of other conditions (called co-morbidities) that are associated with psoriasis such as cardiovascular disease, psoriatic arthritis, diabetes, metabolic syndrome and depression. Learn more about psoriasis on our main psoriasis page or download the information booklet What you need to know about psoriasis.
---
For more information about psoriasis, visit our Psoriasis Section to download our booklet, What you need to know about Psoriasis or contact the ISF Helpline for one-to-one information and support.